News Archives - October 2007
Spooky happenings on TWH forums
by Gaius Colinius | 10/31/2007 6:48 AM
There have been funny sounds and strange sightings on the
TWH forums
. Do drop in and help us to drive the evil demons away by posting your thoughts in
this thread
.
Welcome back to TWH Chonaman
by Gaius Colinius | 10/31/2007 6:41 AM
Chonaman is joining the TWH staff to give us a hand with RTW moderation & content. He has worked for the heaven before and was most recently working for Rise & Fall Heaven. He has a huge amount of experience with Rome: Total War and is very approachable. Please drop in to congratulate him on our forums
here
.
Total War Heaven: Looking for new staff
by Gaius Colinius | 10/25/2007 11:13 AM
We're looking for new people to help out with staff duties on Total War Heaven. Full details are available
here
but the short version is that we are looking for:
Total War Heaven Download Reviewers


Rome: Total War Heaven Content Contributors


an Empire: Total War News & Content Contributor
If you're interested, please send an email to
yakcamkir
and tell us a little about why you think you are best suited to the post. Do mention any experience you have that may be relevant to this role. It doesn't have to be an essay but four-line applications are unlikely to be successful either.
Good luck.
Empire:Total War FAQ
by Gaius Colinius | 10/24/2007 9:13 AM
If you visit the
official Total War Blog
, you can read the Q&A released by CA on Empire: Total War.
Below are a few snippets. Discuss these in our forums
here
.
Will religion play an important role in Empire: Total War?
It's clear that the Enlightenment caused a few headaches for some of the clergy of the time. With that in mind, religious issues are still relevant in Empire, but less important than in Med II. The Pope won't be dropping Lord Nelson a line asking him to retake the Holy Land, but religion does play a part in social order and diplomatic relations.
Will the game be moddable?
Of course. We've always wanted to encourage our modding community and help them out. There's been a lot of great work created for previous Total War titles and we'll be looking to encourage more of the same for Empire.
Will naval battles be fun and easy to command?
We're working hard to get a balance between ease of use and depth in naval combat. We're confident that we're heading in the right direction and it's already fun to play naval battles in the office, even roping in members of the CA staff who haven't been working on the naval stuff, so it can't be that hard to pick up!
LOTR Total War Open Beta Released!
by Gaius Colinius | 10/19/2007 11:17 AM
SubRosa
has brought an exciting looking mod to our attention
here
. All the necessary information is in the thread but here are a few screenies (taken by
SubRosa
) to whet your appetite.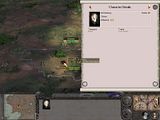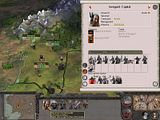 The Fourth Age: Total War - The New Shadow v2.4 Patch Released
by Gaius Colinius | 10/15/2007 17:52 PM
The Fourth Age: Total War Development Team presents:
THE FOURTH AGE: TOTAL WAR - THE NEW SHADOW 2.4
The v2.4 Patch for
The Fourth Age: Total War - The New Shadow
has now been released! There are many tweaks and improvements incorporated in this release, including a new interface for the Elves, a rebalancing of the Poros and Isen historical battles, and a new trait which simulates the challenge of supplying a host in the field.
If you do not have
The New Shadow
yet, you can get hold of it
here
. Please continue to give us feedback and constructive criticism. Visit us at
www.thefourthage.org
, or at our forums.
List of changes introduced with 2.4:


Description of the other DB's effects added to Base
Diversification Buildings
More unique images for Diversification Buildings added
Dragonshield Officer scaled down
Shield removed from Warg-rider unit cards
Wrong KoDA officer animation corrected
One KoDA officer removed
Poros and Isen HB rebalanced
Wrong category classification of Fighting Uruk-hai corrected
Missing Barbarian UI images added
Various sound, names, and trait typos corrected
Various pathing codes edited
New strategy map lighting implemented
Strat. map slightly edited
AI Military Skill trait edited
AI Military Naval Skill trait added
Haradrian settlers recruitable in some Haradrian homelands
Start exp. notice added on short unit descriptions
Mariner traits fixed
Minor EDB changes made
Mount masses slightly decreased
Supply trait added
"House of/Tribe of" captains made more fertile
New Elven interface implemented
New skin added for Adunabar Longbowmen
Critical CTD error fixed
Scarlet Shields and Harondor Swords darker textures implemented
Visit the
update thread
in the TWH forums to check out the download links, give feedback and ask
apocalypsis
any questions you may have.
HeavenGames' Staff System: A Revamp
by Gaius Colinius | 10/10/2007 19:12 PM
Source: The HG Blog
So now that things have been settled with HG's identity, it's time to go on to the fun stuff: the staff system! Woo!
It's been discussed in a previous blog post that HeavenGames doesn't operate as efficiently as it could from a staff perspective. A lot of issues have already been dealt with in the past several months, but there are two substantial problems that must be taken care of. First, there is no effective way to ensure quality and consistency of work across all of our sites. Second, we do not have dedicated jobs in a number of support capacities, including marketing, sales, and the like.
Revamped Staff System
The owners have thus discussed the issue with the HeavenGames staff and have come up with the following system:
As you can see, HeavenGames will still be run fundamentally the same: the Exco - chaired by the CEO - makes all of the network-wide administrative decisions and Seraphs work under the Exco as site administrators. What will be added to the system will be a Seraph Liaison and Support Departments. First, the Seraph Liaison...(
Read more!
)
Today on the forums....
by Gaius Colinius | 10/4/2007 17:21 PM
General_II
dug up an
interesting thread
for us today. It seems that a fellow by the name of
thomash808
predicted Empire: Total War way back in November 2005, almost two years ago. He even got the name of the game bang on. Shame he didn't stick around to share his Nostradamus-like prophecy skills with us further.
PC Zone Empire: Total War Preview published online
by Gaius Colinius | 10/3/2007 19:01 PM
The PC Zone preview of Empire: Total War which was previously only available in PC Zone magazine has now been published online in CVG. Read it
here
.
A few snippets for you to drool over:
Vessels will be able to let fly with chain shot, grapeshot, musket fire and cannonballs, which you can aim at your foes' destructible sails, decks and/or hulls so they sink faster than Robert Maxwell.

You can also opt to grapple and board enemy ships for exciting fights on-deck with muskets and sabres, any captured ships becoming part of your fleet, and thus available for use in subsequent battles.
Yes. You read that right. Capturing ships is going to be part of the game!
Also, buildings will now be visible on the map without you having to click on the settlements that they're in, so you'll be able to click on them and upgrade directly from the map. Apart from the added convenience, this means you'll now be able to see at a glance how developed a region is without trawling through a menu to investigate, and in addition use your armies to attack and destroy individual buildings.
So we must bid farewell to the city construction screen? And proper order too. Being able to see the state of your province at a quick glance will be of great benefit to players who tire of labouring through the old city construction screens.
---
Copyright © 1997–2021 HeavenGames LLC. All Rights Reserved.
The graphical images and content enclosed with this document are viewable for private use only. All other rights - including, but not limited to, distribution, duplication, and publish by any means - are retained by HeavenGames LLC. Federal law provides criminal and civil penalties for those found to be in violation. Rome: Total War is a game by Creative Assembly and published by Sega (originally Activision). This site is not endorsed by the Creative Assembly or Sega. Please Read.
Privacy Statement | Disclaimer | Forum Code of Conduct | Legal Information