posted 26 August 2007 17:42 EDT (US)
---
I decided to try my hand at documenting an entire campaign. I first got the idea about halfway through my last campaign, playing the Sarmatians in BI. Of course being halfway through it was a little late to start an AAR. So after finishing that game, I decided to give it another go and try the campaign using a different strategy. I must also confess that I was partially inspired by Severous' latest AAR on another forum too.
The last time out I went east across the plains, then swung south to ravage the Sassanids, then headed west through Asia Minor and settled in Ephesus. From there I expanded in both directions to achieve my victory conditions. This time I plan to build up as best I can before the Huns come to wipe me out, then horde and head west to ravage Eastern Europe before swinging south to Greece. I intend to settle there and then expand outwards again.
So here we go. This campaign will be on Hard/Hard difficulty, with no mods (except to make some of the unlockable and unplayable factions playable), game version 1.6, scale of Huge.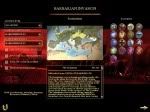 [This message has been edited by SubRosa (edited 09-11-2007 @ 04:03 PM).]