posted 19 December 2007 20:18 EDT (US)
---
I have some time off work coming up shortly, so I thought that I would celebrate RTW style. My Mod duties keep my busy, but there is something I thought I would try that should not be as time-consuming as other AARs. A defensive campaign. Who of? My sisters and brothers of the Windswept Plains of course!
The house rules are simple. I cannot send any armies outside of my four starting territories. Nor can I blockade enemy ports. However I may attack enemy shipping in my waters (which I define as being near my home ports). I also may freely use agents to assassinate, bribe, sow rebellion, and spread plague as I wish.
The settings are:
Very Hard/Very Hard
Morale, Fatigue, and Limited Ammo on.
No mods except to make Scythia playable.
My goal is simply to survive until the game ends.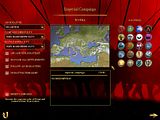 Now let us be off to the Sea of Grass...

[This message has been edited by SubRosa (edited 12-27-2007 @ 05:25 PM).]