posted 03 January 2014 21:21 EDT (US)
---
Before I begin, allow me to everyone a bit of info about the mod I'm using for this AAR.
Divide et Impera is a major overhaul mod for Rome II that focuses on giving players the most historically accurate gaming experience with the Rome II engine. Inspired by the great mods Europa Barbarorum, Rome: Total Realism and Broken Crescent, the DeI team passionately works hard day after day to improve their mod and give fans of the Total War series the Rome II they dreamed of.

Now that I've finished gushing about the mod, it's time focus on the AAR and the faction I'm playing: the Lusitani!


*******



Divide et Impera: Conquests of the Lusitani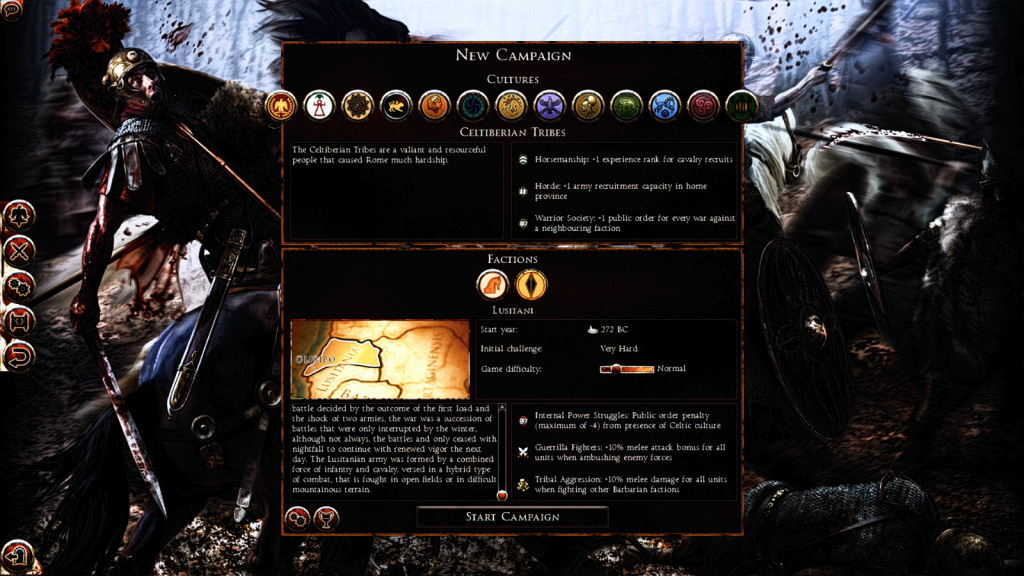 Our first look will be at the faction selection screen. As a testament to their historical tactics and temperament, the Lusitani get a 10% bonus to their melee attack when ambushing enemies and a 10% bonus to melee damage when fighting other barbarian factions. In addition to these, their cultural bonus gives their cavalry recruits +1 experience and a slight +1 boost to public order in their settlements for every active war with a neighboring faction.

However, not everything is peaches and cream. Internal power struggles amongst their people causes them to have a penalty to public order caused by the presence of Celtic culture in their society. I may have to make campaigning to the northeast a priority so I can wipe out the Averni and other Gallic factions before their influence becomes too strong.





My initial forces and my starting position on what some would call the ass end of the Ancient World. Just so. If I manage to keep a low profile and conquer the Iberian Peninsula without drawing too much attention to myself, I'll be in a strong position when it comes to war with Rome or Carthage.





I quick look at the diplomacy screen reveals that I begin at war with the Arevaci. I will focus all my attention of raising enough troops to crush them before they can rally the other Iberian tribes to their side.


*******


That's it for the OP. I shall post the first real update in a day or two.

Edit - List of mods used in this AAR.

Main mod: Divide et Impera. Part 1, Part 2, & Part 3. Hellbent's and Dresden's Traits, Talents and Toadies Mod is also a part of this mod.

Submods:
1. Historical Development submod for DEI by yukishiro1
2. Melius Imperi: A Better Empire by Aelexander
3. BareBones Superior Campaign AI by DuB
4. Better siege weapons, equipments and fort walls HQ textures by Noif
5.Better Water III HD by EFIX
6. Replenishment rebalance v1.0 by CrzyRndm
7. Iyerbeth's Reduced Food Mod by Iyerbeth
8. Iyerbeth's Reduced Squalor Mod by Iyerbeth
9. R2:TW GEM - Graphic Enhancement Mod 4.1 by 최정장군 - General Choi Jeong
10. Osbots City Recruitment Modification by EyeRuvDumprings
11. Bloody UI Mod by GEЯΨLA
12. Remove Fog of War by 1stEPI Gunny. Really only using this one occasionally to see how the AI factions are doing around the map.
---
"Life is more fun when you are insane. Just let go occasionally".- yakcamkir
12:14
"It is not numbers, but vision that wins wars."
- Antiochus VII Sidetes
"My magic screen is constantly bombarded with nubile young things eager to please these old eyes. This truly is a wonderful period in which to exist!
-
Terikel GrayhairAngel
of
Total War: Rome II Heaven
and the
Total War: Attila Forums
[This message has been edited by DominicusUltimus (edited 01-06-2014 @ 03:58 PM).]