posted 12 July 2008 17:03 EDT (US)
---
All pictures here are thumbnails (even the large ones), click on them to see the full-sized image.
The starting territories of Amazonia.


The starting territories of New Amazonia.



A new temple, to Kybele, the Great Mother, ruler of the Amazonian pantheon.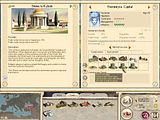 The backbone of the Amazon army, Archers.



An Amazon Captain and her bodyguard.



Agema Axes are hungry for blood.



Agema Archers in action.



Amazon Companion Cavalry charge.



Companions vs. Greeks



Heavy Cavalry riding down Hoplites



Agema Axes lurking in the grass.



Amazon and Greek Armoured Hoplites square off against one another.



Agema Archers lie in wait.



Armoured Hoplites taunt their foes.



Agema Axes in action.



Amazon Hoplites on the line.



Armoured Hoplites ready for battle.



Amazon Chariots stand ready.



Chariots in action.



This is how Amazonia rolls!



Militia Cavalry skirmishing with the enemy.



Fallen Amazon



You will be assimilated!



Agema Archers take aim



Spartan Hoplites hold the line against Rome.



Spartans charge!



A Macedonian Lancer is unhorsed by Amazon Peltasts.



An Agema Archer puts her sword through a Naked Fanatic's shield.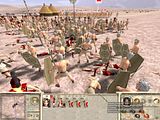 An Amazon axe just moments before finding a new home in an Armoured Hoplite's skull.



Here are the starting territories of the Sarmatians, the steppe between the Don and Volga rivers.



Sarmatian Nobles in action.



A Sarmatian Virgin Horse Archer desperately battles the Bosporan Infantry of Scythia.



Numidian Noble Cavalry



Numidian Elephants On The Move



Numidian Elephants In Action



Barbarians now have a 4th tier of development.



Night Raiders hurl their axes.



German Archers take aim.



A Gallic Onager fires its payload.



Carthaginian Scutarii stand ready.



Briton Chosen Slingers let loose.



Carthaginian Poeni Slingers under heavy fire.



Dacian Chosen Falxmen charge.



The Bosporus and Kuban.



North-East Europe.



North-East Plains.



The East.

[This message has been edited by SubRosa (edited 09-20-2008 @ 06:45 PM).]