posted 22 October 2008 21:46 EDT (US)
---
I decided to take a break from mod work for a while, and actually play a little bit of what I have been so tirelessly working on for the last few months. So I figured, why not an AAR?
Here we go then. I will be playing Thrace in Amazon: Total War, version 2.1. This being ATW, they are not your run of the mill Thrace. Rather they have some special modifications (which you can also find in
Thrace: The Serpent Reborn). It will be fun to see how the new Thrace works out.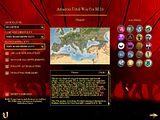 The usual settings:
Very Hard/Very Hard
Huge unit scale
Morale, fatigue, and limited ammo on
I will manage all settlements
Using the BI executable.

I only plan to do a short campaign right now. That way I can get back to work on ATW in a week or two. If it is really going well I might go farther though.

[This message has been edited by SubRosa (edited 10-28-2008 @ 01:41 PM).]