posted 08 January 2009 18:23 EDT (US)
---
Yes indeed folks, its time for another AAR, courtesy of Zavier. Anyway, this AAR will be a defensive AAR, a type that I have never managed to finish in the past.
I also hope to actually finish this AAR. (I was going to go back to my WRE one, but I don't have the save anymore.)
Anyway, here we go.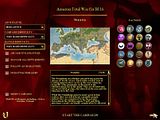 Mod: SubRosa's Amazon: Total War (with a few minor tweaks by me.)
Civilization: Numidia
Difficulty: Very Hard / Very Hard
Conditions:
-Defend my starting three territories till game over (14 A.D.)
-Never attack another city.
-I can declare war with other civs only if they are on my land.
-My navy can go anywhere.

Let's begin.