posted 23 July 2008 18:34 EDT (US)
---
The Additional Unit Pack Version 1.1 is now available for download.

This mod for RTW 1.5 adds 23 new units to the game, using mostly original textures and models. It aims to fill gaps in unit rosters, giving factions access to units they did not have before. It uses mod:switch so it will not affect your original game files.
The excellent unit cards were made by Private Clark.

1.1 is only being released as a patch which fixes bugs, adds a few new skins, and tweaks a few units. If you have not downloaded version 1.0, you must do this first.

Note that this is version 1.1. Another version with plenty more new units may be up soon.

I am open to any feedback, on faults, balancing, suggestions, even spelling mistakes. Just do not come blabbering to me about historical accuracy. As a historian myself, I am aware of how apocryphal most of these units are. AUP presents a 'what if' situation.

What if the Parthians had developed an elite core of heavy infantry?
What if the Britons had utilised cavalry to a greater extent?
What if the Greeks had used horse archers as a counter to those they faced?

But enough of my rambling, you can download this at Filefront with the following link:

http://rtw.heavengames.com/downloads/showfile.php?fileid=4436

Or take a look at these screenshots:

The fellows who started this whole debacle: Poeni Archers.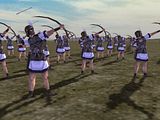 (By the way, I have also put Poeni Archers up on the Download section as a single unit modpack, here, but why bother when you can get the whole kaboodle?)

Poeni Legionaries (Old skin) taking on Roman Elephants.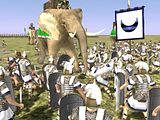 Macedonian Hypaspists, waiting...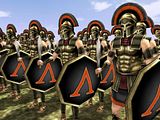 ...for the clash.



The Thracian Swordsmen move on to the Numidian Spearmen and Royal Guards.



Gothic Spearmen in the thick of it with Noble Spears (Old skin).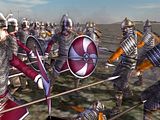 We are Borg Cataphract Spearmen!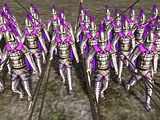 Backed up by the doughty Persian Archers.



Here come the Romans! Equites Patricii chase down Heavy Spearmen, with Auxiliary Cavalry in the background.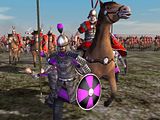 Oh, is that all? Well get on and download it then, lazy, and see them for yourself!

[This message has been edited by Andalus (edited 11-03-2009 @ 02:41 AM).]