posted 13 October 2009 20:52 EDT (US)
---
This will be the topic devoted to mercenary and rebel units.
Mercenaries will play a decisive roll on Spartacus: TW since they will fill every factions recruitment gaps.
Lybian Infantry.
Spearmen armed with some javelins to throw before they engage the enemy. These men can be relied to hold the line for a while until heavier troops arrive or to engage light cavalry but should not be expected to hold in prolongued melee with heavy infantry or cavalry.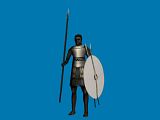 Nubian Spearmen
Common mostly on the Egyptian armies some of these men venture even further north looking for an employer. Usefull as supporting troops they shouldn't be expected to make a difference on the battlefield, but to help others do it.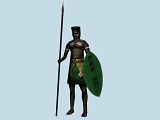 Scordisci Mercenaries
Heavy infantry that can hold their ground against most enemies. As any other "non-speared" infantry they shouldn't be exposed to heavy cavalry charges.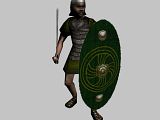 Scythian Mercenary Axemen
When the Scythians were overrun from their lands by the Sarmatian and Roxolanni, not all of them perished or assimilated the conqueror's culture. Some of them decided to migrate and gain their life as mercenaries.
Fierce warriors, these men can tear apart unarmoured opponents and even put up a good fight against armoured ones when well used.

Greek Mercenaries
Mercenaries were always abundant in the greek world since most of the times its city states could not afford to have a permanent army and used mercenaries in their times of need. These men adapted and are the substitutes of the hoplite mercenaries.
Armed with a sword and javelins these men are well armed and well trained and are an excellent addition to any general that can afford them.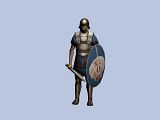 These are just a small part of the available mercenaries. More will be posted later.
---
O xelin angellein Lakedaimoniois hoti tede
Keimetha tois keinon rhemasi peithomenoi.
Spartacus: Total War
[This message has been edited by neo_deus (edited 10-14-2009 @ 06:45 AM).]