posted 07 March 2013 07:08 EDT (US)
---
Hail noble friends and forummers!
The veil has finally be lifted over the East and Rome's age-old enemy and rival stands as the 7th faction to be shown to the world.
Parthia has entered the fray it's starting position reveals just how far East the campaign map now goes.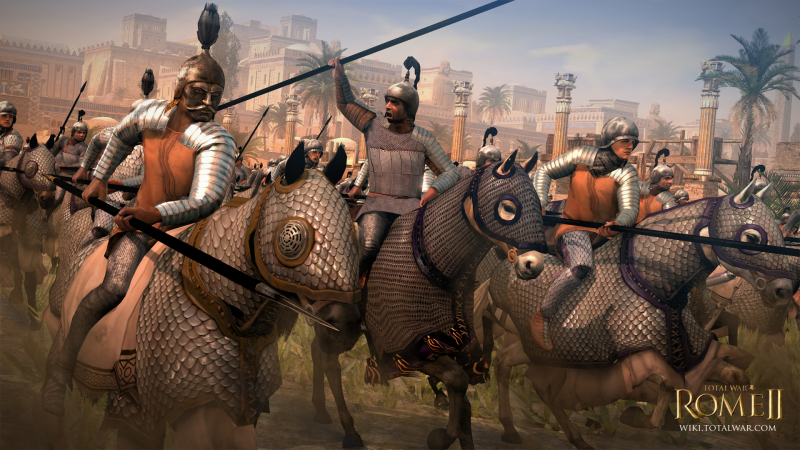 "Tolerance, justice, profit"

The ascension to power of Arsaces, leader of the Parni tribe, assured them victory against the Seleucid protectorate of Parthava, who had been weakened in their attempts to break free of Greco-Macedonian rule. Thus began the rise of Parthia, an eastern empire comparable to the Achaemenid dynasty of old and one of the few who came close to matching the power and wealth of Rome.

A confederation of tribes, Parthia is famed for its horses, nomadic horse-archers and heavy cavalry, the latter developing distinctive bronze or iron scaled armour which covers both horse and rider. For its infantry it relies on ethnic Persian/Iranian hillmen, spear and skirmisher units and sometimes mercenaries, armed and drilled in the Seleucid fashion.

Blending Persian, Hellenistic and local cultures, Parthia's religious practices and philosophies include veneration of both Greek and Iranian Gods, and the practice of Zoroastrianism. Over time, a noble elite has developed, holding key areas of agricultural land upon which the economy is based, while trade via the emerging Silk Road enables its agents to move easily throughout the ancient world.

As an Eastern faction, Parthia profits from the rich heritage established by the Persian Empire both in its capacity for trade and in its cultural strength. A degree of tolerance for foreign cultures further eases Parthian conquest of new lands, but their Zoroastrian practices mean an aversion to slavery, which is detrimental to both the economy and to public order. In battle, their great marksmanship and mastery of cavalry makes them a force to be reckoned with when fighting on open ground.
Even though the map is an 'artistic depiction' of the campaign map, it shows that the sandbox for our wars and battles has grown considerably larger. Now that we know far East the has grown, I'm very interested in how far north and southwards the map stretches as well. Perhaps we'll be able to see the whole of Upper Egypt and the Arabian Peninsula so that the Saba may play a part as a minor faction?
---
"Life is more fun when you are insane. Just let go occasionally".- yakcamkir
12:14
"It is not numbers, but vision that wins wars."
- Antiochus VII Sidetes
"My magic screen is constantly bombarded with nubile young things eager to please these old eyes. This truly is a wonderful period in which to exist!
-
Terikel GrayhairAngel
of
Total War: Rome II Heaven
and the
Total War: Attila Forums
[This message has been edited by DominicusUltimus (edited 03-07-2013 @ 07:22 AM).]